Peter Batey OAM
We owe the creation of the Bald Archy Prize to Peter Batey OAM. Born in Benalla, Victoria in 1933 and educated locally and at the University of Melbourne, he was a distinguished arts administrator and pioneer of contemporary Australian theatre. After a long and successful career, Peter relocated to Coolac, a small town near Gundagai, where he contributed significantly to the regional community and created the Festival of Fun, of which the Bald Archy Prize was a key part.
Throughout his career in theatre, Peter produced and directed some 130 professional productions across Australia and the world. He is known for his collaboration with and direction of all five major Reg Livermore stage shows, which revolutionised Australian commercial theatre in the mid-70's. Eliciting rave reviews, these productions remain the most successful one-man extravaganzas in Australian theatre history, with more than 1200 performances from 1975-1982. Batey has also been publicly acknowledged by Barry Humphries for his contribution to the creation of character Dame Edna Everage.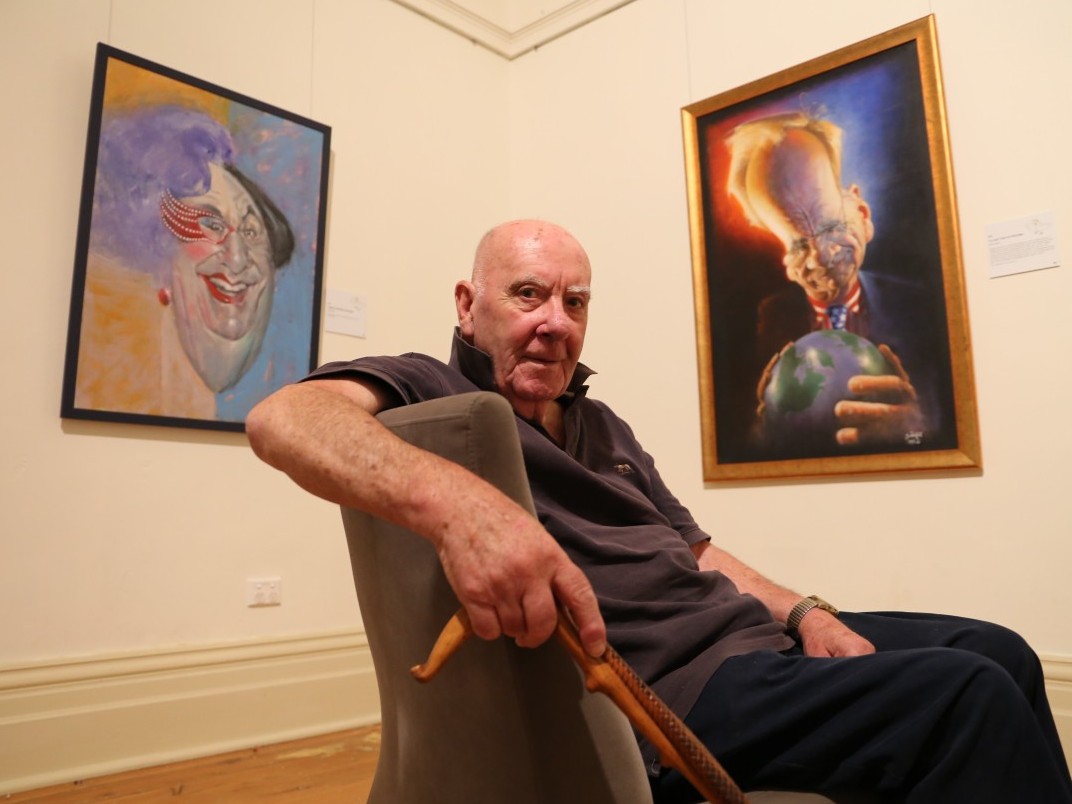 "It was meant to amuse – apparently a problem with people who believe audible laughter shouldn't be permitted in an art gallery, let alone unsolicited conversation with a complete stranger"
- Peter Batey OAM, 2015
Peter was a founding member of the Melbourne Theatre Company (UTRC), inaugural Artistic Director of the South Australian Theatre Company and the first Director of the Victorian Arts Council. He was also Resident Director/Designer for Perth Playhouse and Director/Manager of Canberra Repertory for 4 years. Peter was also honoured with the invitation to direct the Royal Command Performance honouring the Silver Jubilee of HRH Queen Elizabeth II at the Sydney Opera House, the first such event to be televised in Australia.
Following his successes in the late-1970's, Peter moved to the small country town of Coolac, initially opening a restaurant in an abandoned pub. It was later when Peter purchased the old Coolac Schoolhouse that he created the Coolac Festival of Fun, as a way to foster regional community engagement with arts and culture. The Festival of Fun was hugely successful over the 12 years that it ran, attracting an amazing array of performers from the Canberra Youth Orchestra to Toni Lamond.
It also hosted a magnificent annual dinner showcasing produce from the region, attracting leading chefs who provided their services for free and achieving the patronage of Margaret Fulton OAM. Regarded as a benchmark of culinary promotion in rural Australia it was a flagship event.
A range of national competitions were associated with the Festival of Fun. These included shorts story and poetry awards, craft exhibitions and even a sausage-making challenge (SNAGS award – Saluting Nationally a Great Sausage). Most notable however, and most notorious, was the Bald Archy Prize, a satirical portrait competition that came to be one of the leading, if eccentric art competitions in Australia. Achieving international profile, it tours include both regional and capital city venues.
Peter contributed significantly to his regional community. He was a journalist/commentator for several publications on subjects as diverse as arts, lifestyle, food and tourism. He was a Gundagai Shire Councillor, a member of the Regional Tourism Board and Chairman of the Friends of Old Gundagai Gaol, which aims to restore the 150-year-old heritage site that once held bushranger Captain Moonlight in Custody.
Sadly, Peter passed away in June 2019. His wish being that the Bald Archy Prize collection and the ongoing administration of the prize be given to a public institution. The Museum of the Riverina, with which Peter had a long running connection was chosen as the new home of the Bald Archy Prize and is honoured to continue Peter's unique legacy.