About the Prize
Judged by Professor Maude Cockatoo, the world's premier avian art critic, it gives a genuine opportunity to artists of all styles and standards to create portrait paintings of humour, dark satire, light comedy or caricature. In its' first year the Bald Archy Prize struck a chord with the public and a nerve with the arts establishment.
"It was meant to amuse – apparently a problem with people who believe audible laughter shouldn't be permitted in an art gallery, let alone unsolicited conversation with a complete stranger"
- Peter Batey OAM, 2015
While the Coolac Festival of Fun was retired after 12 years, due to public demand the Bald Archy Prize lives on. It encapsulates the irreverent, larrikin Australian spirit in a way that appeals to people from all walks of life, it is now internationally known and has been exhibited across Australia. Winning subjects have included Kerry Packer, Shane Warne, John Howard, Pauline Hanson and myriad other Australian icons.
After the passing of Peter Batey in 2019, the administration of the Bald Archy Prize was handed over to the Museum of the Riverina, Wagga Wagga. Returning for its 27th year in 2023, the Bald Archy Prize is again calling for artworks to carry on the fine tradition of having a laugh while enjoying art.
The Judging
The Bald Archy Prize is currently the only art competition in the world judged by a sulphur crested cockatoo.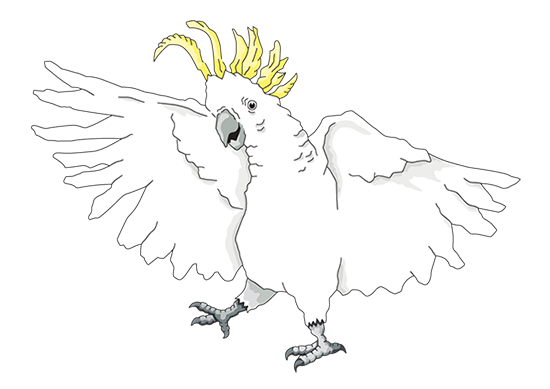 With an online PhD from the Marilyn Munro University of Little Rock, Professor Maude Cockatoo is the most qualified art critic, avian or otherwise, in Australia (according to Maude). As Coolac's Visual Arts Laureate, Maude has been the sole judge of the Bald Archy Prize from its inception at the 1994 Coolac Festival of Fun.
Maude's number one rule for a prize-winner is that it must be funny. Her idea of humour, according to a 2015 interview includes, "wit, slapstick, satire, vulgarity, farce, black comedy, irreverence and everything else that falls between high and low comedy". On the other hand, Maude loathes 'hate portraiture', or 'soap box art' as she calls it.
"It takes 11 galahs to judge the Archibald but only one cockatoo to judge the Bald Archy,"
- Peter Batey OAM, 2016